south america (or parts of) is known to be notoriously unsafe. in general i've felt pretty good about being here, although i have felt less inclined to have my cameras out and about: i've met way too many travelers who have had their cameras nicked. i think some guys tried to rob me on the bus in peru-they spilled water all over the floor and tried to store my bag in the overhead shelves behind me. having had the prior experience of being "helped" (and subsequently robbed) i declined. the guys got off the bus 5 minutes later and i think tried again to distract me.
recently two of my friends were robbed: one opportunistically in the bus station in valparaiso and the other at knife point while waiting for a pickup for  the inca trail. in the early morning. both lost a camera (or cameras!) and passports. my heart goes out to them.
to increase paranoia even more, i watched a film on the way from santiago to mendoza about two young women who get kidnapped in paris by the evil albanian mafia. their mission is to drug-trap women into prostitution. luckily one girl's father is an ex-cia agent and manages to kill every albanian (sans personal injury despite the amount he was shot at) and rescue his daughter. unluckily, the other girl overdoses and is found dead. moral of the story: don't talk to handsome strangers because they may be involved in a plot to kidnap you. noted.
to top it all off, while we were in santiago and valparaiso, my new friend mike took it as his hobby to have me think there was a ferocious dog about to nip at my ankle again...thanks mike.
trying to keep paranoia at a minimum, vigilance at a maximum, and above all-trying to have a good time.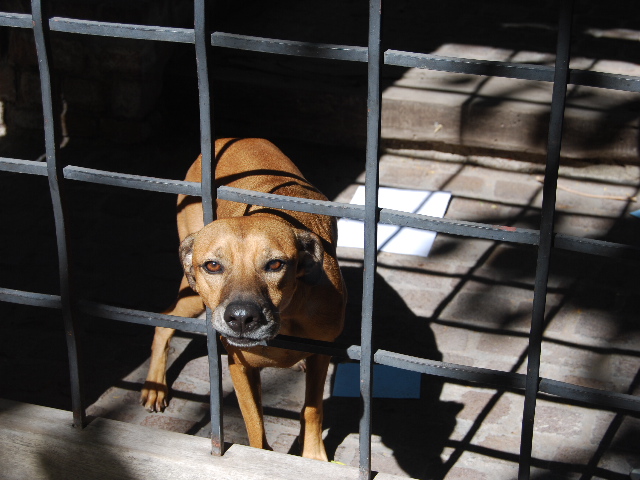 sandra and i got the funny idea to take glamour shots in the local bolivian studio. we borrowed various props and outfits and obeyed when the photographer prodded "sonreeeeeeeesa." after the shoot she asked if i was a photographer, offered me a job, and asked for a lighting lesson. i was really surprised when i picked up the photos-they had added in some special backgrounds for us. i especially like sandra's portrait:
it was a long dusty bus ride to potosi! my friend sandra and i barely made it to the bus due to the ongoing negotiations for hotel reimbursement from our tour. in the end clement found us at the bus station right before our bus left!
both potosi and sucre are beautiful unesco world heritage cities. i still have to ask the internet what it means to be a unesco site...
in potosi it was a bit difficult to breathe at 4070 meters! it was also chilly and i climbed into my sleeping bag, pulled over 4 layers of heavy blankets and fell asleep at 6:30 pm! (perhaps was still recovering from food poisoning)
the casa real de la moneda was neat with its relics associated with coin production. it also housed many oil paintings from the 1600's and onward, as well as antiques, and even mummies.
after potosi we headed to sucre, white city which was a beautiful stop before heading on another long bus journey:
t´was a bit of a rough start in bolivia; at the border i seemed to be the only one from the u.s.a. who forked over the $135 for a bolivian visa-everyone else simply got stamped in! i arrived in uyuni in the early morning and got rejected for an hour by hostels after 22 hours of bus journey. when i finally got settled into a room for a nap, there was an abrupt knock at the door. a grumpy old lady told me that i had to shift rooms. so i did. very. grumpily.
the next day i departed for a tour of the world´s biggest salt flats. sat on the curb for over an hour wondering whether or not someone had forgotten about me...alas no. the group consisted of: 1 guide (bolivian) and 5 tourists (4 french, 1 english, and me). my spanish was by far the worst of the group and for most of the time i felt like the mute, incompetent stepchild. i think it didn't help that i am from the u.s.a...fun times.
the first day we visited the salt hotels and miniature town of colchani where i was bitten on the ankle by a dog. i had just finished a gabriel garcia marquez novel about a girl who had also been bitten on the ankle by a rabid dog and subsequently was thought to be possessed by demons. several people asked me whether i had had the rabies vaccinations (of course not! the series of 3 shots costs about $1000). so far no signs of rabies, unless throwing up or mud-butting are symptoms.
we traversed the flats to see the volcano tunupa and stayed the night at a hostel at the base of the volcano.
here are some of the nicer moments:
day two: wake up call by lucio, our guide didn´t happen. after a breakfast of stale bread, he drove us up the mountain to see the volcano, the mirador vista point, and mummies. wake up call and breakfast, we later found, were null because he was ¨todo borracho¨ (i learned the meaning of this phrase recently. see also: ¨completely hammered¨ or ¨toasted.¨ see also: ¨begin drinking again at 8 am¨).  apparently the day before had been his birthday. because lucio could hardly walk, we lost him after about 5 seconds.
after hiking for 2 hours, we returned where we had been dropped off: no lucio and no vehicle. we walked down the mountain and back to the hostel. apparently he was again spotted drinking beer so we tried to telephone our agencies (the 6 of us had booked with 3 different tour agencies) but there was no service. when we were trying to figure out a plan the also drunken hostel manager, in a fit of violence, threw us out. there we were-sans vehicle, sans guide, sans a plan, sans...lunch. after some time the lady of the hostel apologized and begged us to come back for lunch. i had to break my vow to never again eat alpaca, as lunch was spaghetti and alpaca sauce...to make it all worse, luca, the english tourist, had anticipated ending his tour in chile and had had his exit date stamped on his passport.
in the end yannick, one of the french guys drove us 20 minutes to the next town in hopes of finding phone service. because it was sunday, there was no connection. so we spent the night in that town waiting for lucio to sober up. while we were at a tiny shop, we saw him drive by with 3 people in the vehicle. later we saw 4 beers in the passenger seat of said vehicle.
day 3: we made it back to uyuni, much to the protests of lucio who apologized and tried to insist that we continue the journey to visit geysers, lagoons with flamingos, and national reserve. we refused. luca had his passport stamp fixed and we spent much of the day meeting with various levels of tourist bureaucracy of uyuni. two of the agencies agreed to reimburse fully for the tour. laura travel, the other agency, tried repeatedly to negotiate in their favor. (it turns out that lucio is not even a guide nor a driver but the manager of laura travel). in the end the three frenchies got most of their money back.
we then tried to negotiate the $20 that each of us had paid for the second night, long story short we ended up getting half of the expense back. sandra, one of the french ladies, and i left for potosi the next morning after partying in the bar ¨extreme fun¨ with luca and clement. i spent part of the early morning barfing and mud butting from food poisoning. ¨ah! plutemps!¨ (the phrase i will always hear in my head by the frenchies, i was glad to become friends with some of them eventually)
again, here are some of the nicer moments: